Greetings, Arizona Cardinals fans! Are you ready to cheer on your favorite team at State Farm Stadium? Let's explore the convenience of reserving an hourly charter of a limousines, party bus, or charter bus for hassle-free transportation to the game!
When it comes to attending a thrilling Arizona Cardinals football game, transportation logistics can quickly become overwhelming. But fear not! Hourly charters are the ideal solution for your transportation needs. Due to inbound road closures and traffic during games at State Farm Stadium, we only offer hourly charters to the stadium, however, hourly charters provide you with the flexibility to customize your journey. You can set your own pick-up time, choose the most convenient locations for you and your fellow fans, and relax knowing that your dedicated vehicle will be at your service throughout the game.
Gameday Transportation Options
For a touch of luxury and elegance, look no further than our limousine service. Imagine arriving at State Farm Stadium in a sleek, sophisticated limo, turning heads and making a grand entrance. Inside, you'll find plush leather seats, climate control, and amenities designed to make your ride as enjoyable as the game itself. Our professional chauffeurs are dedicated to providing you with a safe and smooth journey!
If you're heading to the game with a group of friends, our party buses are the ultimate way to kick-start the celebration! We have our smallest 14 passenger Mercedes party buses, our largest 40-passenger Tiffany party bus and a few sizes in between! These buses are equipped with party essentials such as built-in entertainment systems, dance floors, and even minibars (for passengers of legal drinking age). It's not just a ride; it's a pre-game party on wheels!
For bigger groups, our motorcoaches offer both comfort and convenience. These spacious vehicles can accommodate large parties without compromising on comfort. These charter buses have emergency use restrooms which can be handy at the end of a long game! Be sure to check if your group block of tickets includes a bus pass! A bus parking pass may need to be purchased separately.
Why Book Transportation Services to the Game
Utilizing a transportation service for your Arizona Cardinals game day is more than just getting from point A to B. It's about immersing yourself in the experience, reducing stress, and enhancing the camaraderie with your fellow fans. Here are some highlights of the fun you can expect:
Tailgating Begins on Wheels: Start the tailgate party early and keep the excitement going while en route to the stadium. Share stories, indulge in team chants, and get pumped up for the game ahead. We stock each vehicle with water and ice, and you are welcome to bring additional drinks on board. (must be 21+ to enjoy alcoholic beverages onboard).
Worry-Free Parking: With a dedicated transportation service, you won't need to worry about navigating the crowded parking lots or finding a suitable spot. Our experienced drivers will handle the logistics, leaving you free to enjoy the festivities. *Parking passes may be needed for State Farm Stadium – reach out to us on live chat to confirm details before your trip*
Post-Game Celebrations: After the game, the fun doesn't stop! Continue celebrating your team's victory (or commiserating over a tough loss) onboard while heading back home. Reliving the highlights of the game with fellow fans is a fantastic way to cap off the day. With an hourly charter, you can direct the driver as needed and make impromptu stops after the game! We can even extend your charter to keep the celebration going (subject to availability).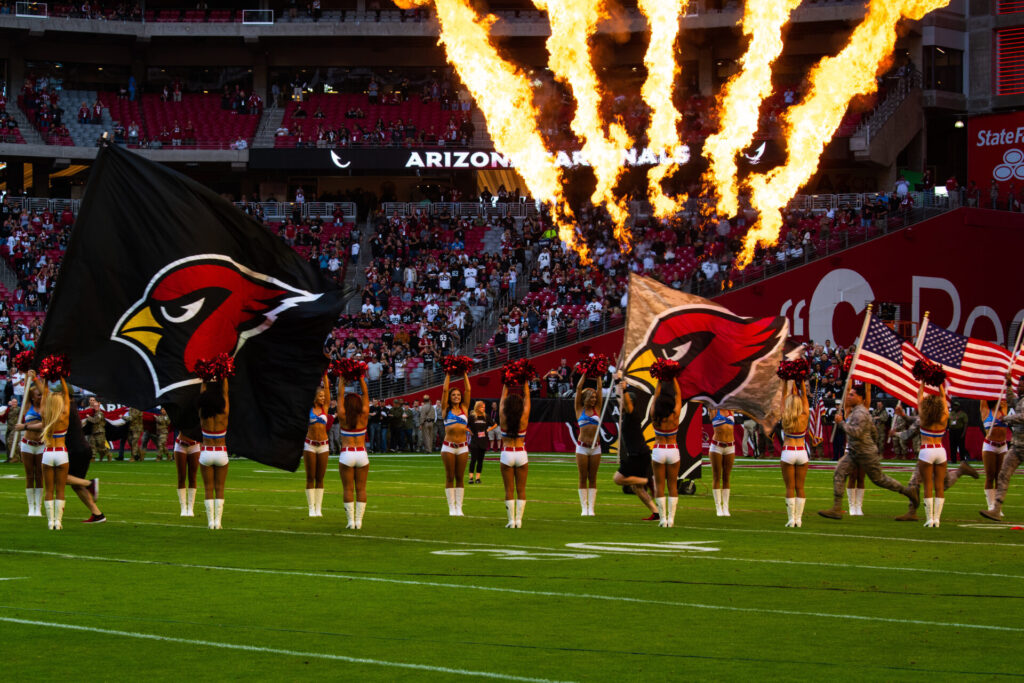 How and When to Book your Trip
Cheering on the Arizona Cardinals at State Farm Stadium is an exhilarating experience. Local games playing teams with large fan bases can sell out months in advance. Reach out on live chat to check availability for the date of the game you'd like to attend! Whether you choose a limousine, party bus, or charter bus, our friendly and helpful team is committed to ensuring a memorable and stress-free game day. 
So, what are you waiting for? Training camp begins July 31. Preseason games begin starting August 11. The first official home game of the 2023 season is September 10! Book your transportation now, and let's ride together to support our beloved Arizona Cardinals in style! Go Cardinals!