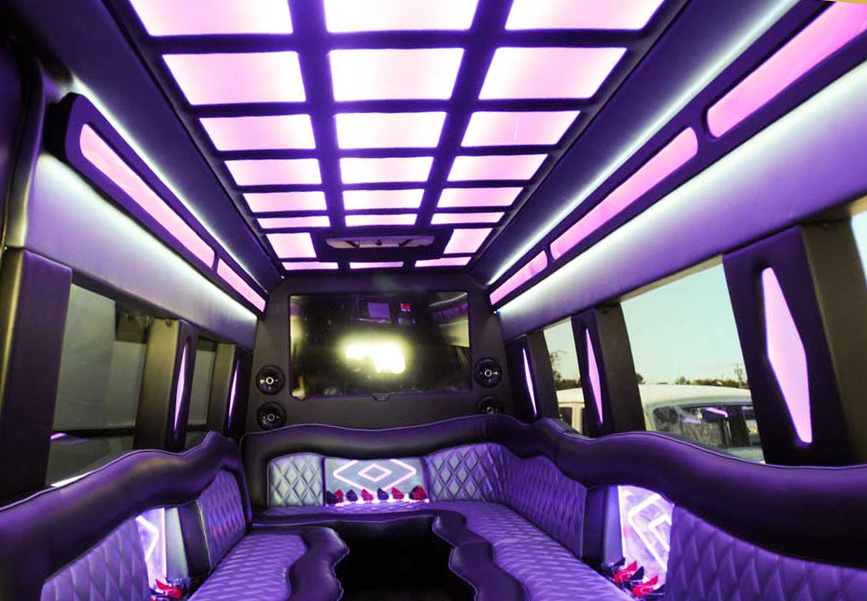 14 passenger, Party Bus

A Mercedes Sprinter limo is a luxurious and spacious vehicle that is perfect for a variety of occasions. Whether you're planning a wedding, prom, corporate event, or just a night out with friends, a Mercedes Sprinter limo can provide a memorable and enjoyable transportation experience.

One of the main benefits of a Mercedes Sprinter limo is its spacious and comfortable interior. With seating for up to 14 passengers, there is plenty of room for everyone to stretch out and relax. The limo is also equipped with a variety of amenities such as a premium sound system, LED lighting, and a mini bar, which can help to enhance the overall experience.

Another advantage of a Mercedes Sprinter limo is its sleek and stylish exterior. The vehicle is finished in a sleek black color, and features tinted windows. This makes it an impressive and eye-catching choice for any occasion.

Amenities

Leather Limousine Style Seating
Premium Stereo System with Bluetooth Audio
LED Party lights
Bar Area with Ice Chests
Rear Luggage Compartment
Privacy Window Shades

Storage and Guest Count

Legal seating is 14.  Because this Sprinter Limo has additional seating, there is no storage compartment.  If you need room for luggage or golf clubs, review our Executive Coach or Martini Party Bus for larger groups or the Executive Sprinter.

Popular Services

The Mercedes Sprinter Limo is popular with bachelorette groups planning a night out on the town!  It's also a great choice for a birthday bar crawl, wedding transportation for the bridal party, or quinceanera heading out for a dinner or to a sporting event.

Book in Advance

Weekends do sell out quickly, we advise booking in advance if possible.  Reach out on live chat, by text or by phone to check availability and get a quote for your trip today!