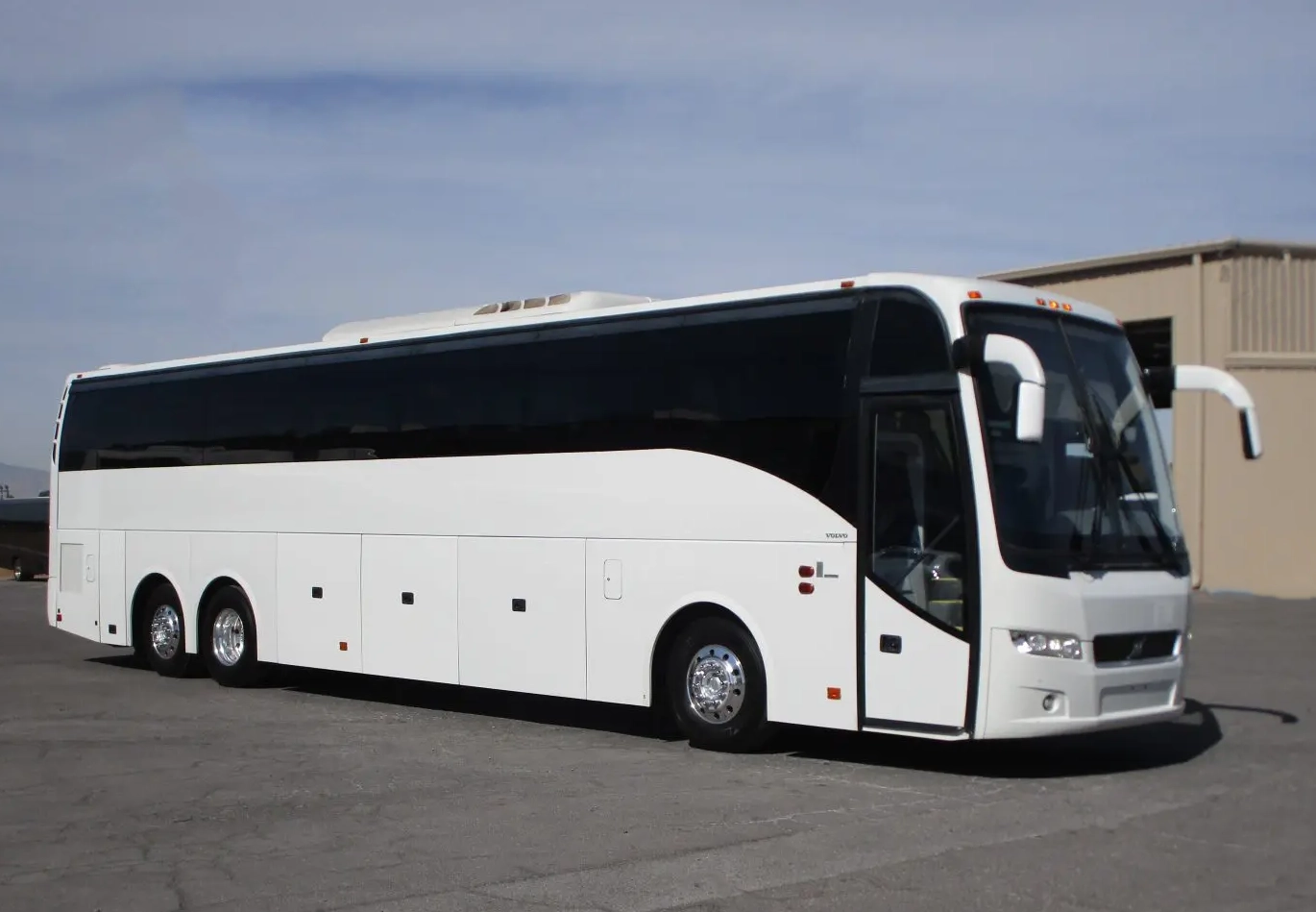 54 passengers, Charter Bus

Our full size motorcoach is built for comfort.  Reclining seats and large windows are great for site seeing tours to Northern Arizona.   Sunshades and armrests add to passenger comfort.  Inside the bus, you'll find comfortable seating for up to 54 passengers.  The restroom onboard is for your convenience and adds comfort to out of town trips and tours.

The Volvo Motorcoach  is a top-of-the-line vehicle designed for comfortable and reliable group transportation. With its sleek and modern exterior design, the Volvo Charter Bus is sure to make a statement wherever it goes.

Designed with safety in mind, the bus is equipped with advanced safety features such as airbags, stability control, and emergency exits, so you can travel with peace of mind. With its smooth ride and top-of-the-line amenities, the Volvo Charter Bus is the perfect choice for long-distance travel or any other group transportation needs. So if you want to travel in comfort and style, consider the Volvo Charter Bus for your next trip.

Motorcoach Amenities

Head rests
Individual arm rests
Overhead storage racks
Passenger sunshades
Seat Belts
Outlets
Undercarriage weather-proofed luggage compartments

The PA system allows for group tours.  Visit our Tours page to view offered tours or create your own unique tour!  Our full size coaches frequently make trips to Disneyland and other popular California destinations in addition to our Grand Canyon Tours.

Popular Services

If your large group needs local transportation, the roomy storage areas of this coach make it perfect for sports teams – either competitive club teams or a local charter school team – the 54 passenger coach can make an away game comfortable for your group.

Frequently used for trips to church camps in Prescott, Flagstaff, or Payson, you can book this 54 passenger in addition to our 50 passenger Irizar coaches to accommodate 100+ guests.

Book in Advance

Event planning for a large group can be a challenge!  Reach out today to check availability and get a custom quote for your event.  We are available on live chat, by text or by phone.  Reserve today!