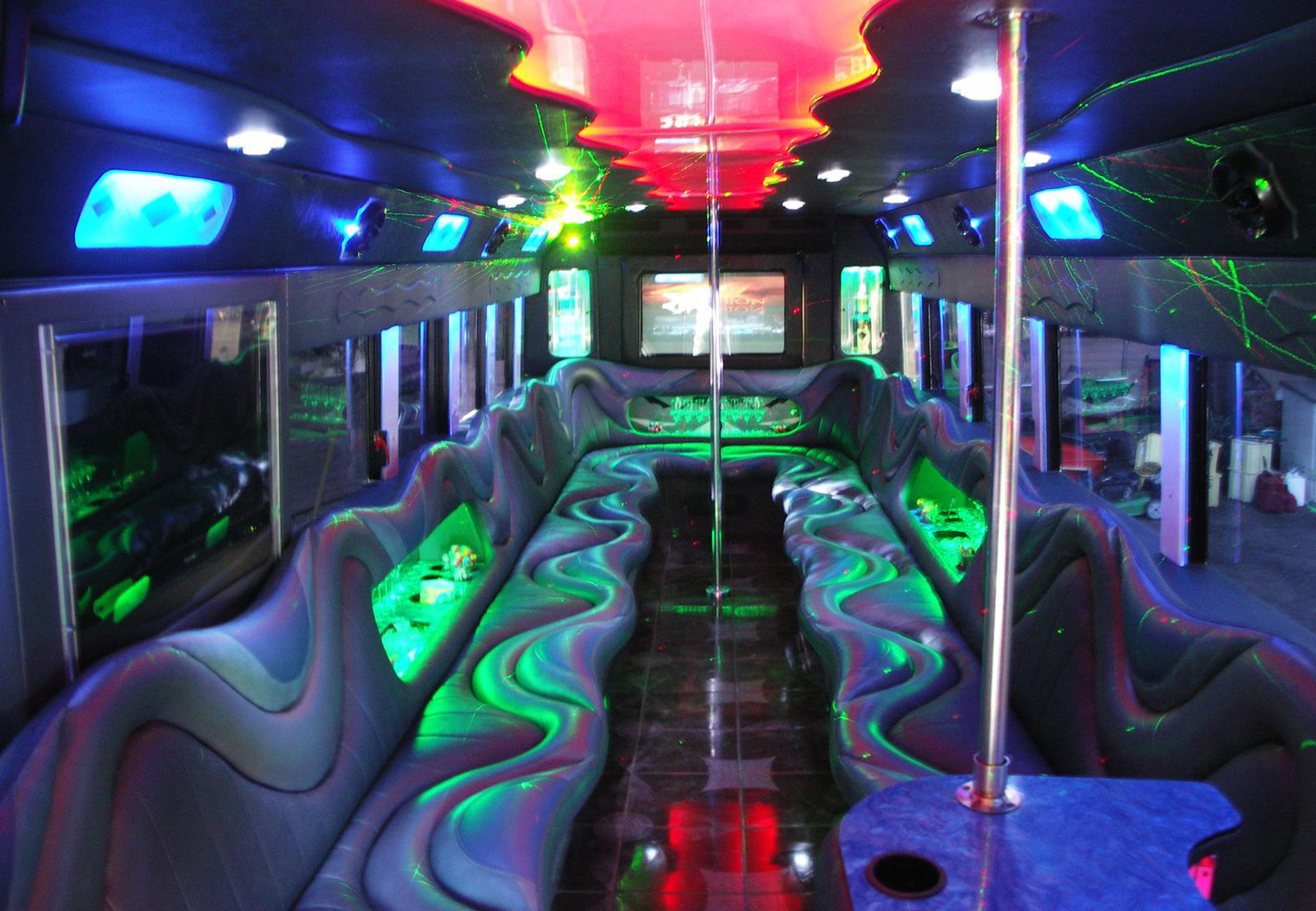 33 passenger, Party Bus

Are you ready to party in style with our  33 passenger party bus?  This is one of our oldest party buses – because of it's amenities (spacious interior and dance pole!) it's been a favorite for bachelor/bachelorette parties, birthday bar crawls, group trips out to a concerts at Phoenix Raceway  or just a night out with friends!

Our party bus is decked out with all the amenities you could possibly need for an unforgettable night on the town. The interior features plush leather seating, a state-of-the-art sound system, and a dance pole and stand up bar to keep the party going all night long. And with plenty of room to dance and mingle, you'll have the time of your life with all your friends by your side.

But the fun doesn't stop there! Neon lighting, a sleek black exterior, and tinted windows to keep the party private and festive! This 33 passenger Party Bus is a weekend staple!

Party Bus Amenities

Leather Limousine Style Bench Seating
Dance Pole
Stand Up Bar Area
Built in Bar Areas with Ice Chests
Privacy Divider
Premium Stereo System with Bluetooth Audio

Storage and Guest Count

This party bus is designed for pure entertainment and does not have storage space for luggage or airport trips.  The legal guest limit is 33 – for a group of students or a smaller crowd it will accommodate 33.  If your party is a group of adults, we recommend this for about 28 guests.  Our larger Tiffany Freightliner accommodates 40 and has a Dance Pole as well.  This could be a more roomy option for adult groups of 30+.

Popular Services

Concert Transportation – this party bus is perfect for taking a big group out to a music festival or event!

Birthday Night Out – if you are turning 21, 40, or 50 every big birthday celebration is better with a party bus!

Post Wedding Bridal Party Transportation – get everyone safely from the wedding venue to the after party in Scottsdale!

also great for Quinceaneras, Bachelor Parties and Bachelorette Parties!

Book in Advance

Weekends sell out quickly!  We recommend booking in advance!  Reach out on live chat, by text or by phone to check availability and get a custom quote!